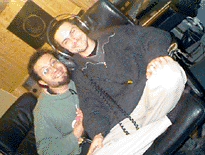 A studio session in april 2000, to record the new album "Eden on Earth".
This Cd number 6 from PBB was recorded at Karma studio, with Pascal Ianigro, (Hint, Ludwig Von 88, Sergent Garcia...)
One month in a beautiful countryside ( nature, grass & spirituality ), near Angers.
The house is a huge farm, shared between the studio itself & two other rooms for the instruments ( large & high chambers ) made of old stones !
One week for the instruments & voices, and 3 weeks to prepare the samples & the final mix of the 10 songs !